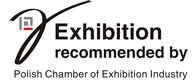 Order a stand with a discount until 22.02.2019!
While the growing popularity of DREMASILESIA attracts new exhibitors every year, the comprehensive range of products and services attracts visitors from all over Poland as well as professionals from abroad. This is an excellent opportunity to learn about technical and technological trends in furniture production and woodworking.
REGISTRATION TO THE TRADE SHOW CAN BE DONE VIA THE EXHIBITOR ZONE ONLY >> here
Present your offer:
on the LARGEST REGIONAL TRADE FAIR related to woodworking industry - DREMASILESIA (April 26-28, 2019, Sosnowiec, Poland)
nearly 70 exhibitors and 1500 professionals participating in edition 2018
register your company to become an exhibitor at DremaSilesia and DREMA - you will receive a 5% off on the cost of exhibition space at both events!