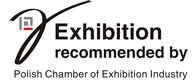 FURNICA - a part of DREMA and DremaSilesia!
With the upcoming 2019 edition, FURNICA will become a part of DremaSilesia and DREMA, which is currently the fifth exhibition dedicated to the woodworking industry in the world. This combination will allow for a comprehensive presentation of technological solutions for the furniture industry (from raw materials, materials and components to technologically advanced machinery and equipment for furniture production).
Furnica - sets trends, inspires manufacturers and designers. We encourage manufacturers, suppliers and distributors of components and accessories for furniture production to present their offer at DREMA and DremaSilesia 2019.
Feel free to cooperate with us!
We have just opened registration for the wood and furniture trade fair. If you want to participate and register your company for both DREMASILESIA and DREMA, you will receive a 5% off on the cost of exhibition space at both events!