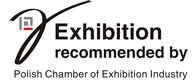 DREMA - the fifth largest exhibition in the world!
The DREMA International Trade Fair of Machines and Tools for the Wood and Furniture Industry is one of the world's leading exhibitions dedicated to the woodworking industry. According to the 2018 VDMA-Auma figures presented at this year's meeting of the Eumabois Federation in Istanbul, DREMA took the fifth place in the ranking of the best world exhibitions, alongside German LIGNA, Italian XYLEXPO, American IWF Atlanta or Chinese WMF Shanghai, thus becoming a serious player in the global exhibition elite.
The 2018 DREMA Edition set a new record - 389 exhibitors from 19 countries presented their offer on 25,400 m2 of exhibition space. For four days, the DREMA, Furnica and SoFab exhibition halls were visited by a total of 16,600 professionals from the wood and furniture industries. Thanks to the impressive offerings including a range of new products showcased by exhibitors and an attractive agenda prepared in cooperation with the fair's patrons and partners, DREMA 2018 received a lot of positive feedback from visitors from all over the world.
"For many years the DREMA trade fair in Poznań has provided an opportunity to present the most modern achievements of Polish and foreign manufacturers of machines, tools and equipment for the wood and furniture industry. It is also an ideal venue for presenting modern technologies and solutions dedicated to the woodworking industry, where key exhibitors are eager to boast about novelties and innovative achievements in the wood and furniture sector," highlights Andrzej Półrolniczak, DREMA and DremaSilesia Trade Fair Director.
The tradition of building woodworking machines in Poland dates back to 1865. Today, Polish entrepreneurs offer comprehensive solutions covering technological processes, from wood sawing technology to advanced solutions for the furniture industry. The Polish sector of woodworking equipment and tools is constantly developing, and the Polish entrepreneurs have plenty to boast about; many innovative products or solutions are in no way inferior to foreign technologies, while the high quality of workmanship, modern materials and better prices make it possible to compete effectively with the major players on the global market.
"I am glad that the DREMA International Trade Fair of Machines and Tools for the Wood and Furniture Industry held in Poznań has been recognized and appreciated and is now being listed together with the most important exhibitions of the wood and furniture industry in the world. Therefore, when it comes to the future of the industry, and thus the DREMA trade fair, I am calm and optimistic about the future," adds the DREMA Director.
The forthcoming edition of DREMA will take place from 10 to 13 September 2019 in Poznań. Also, be invited for the DremaSilesia trade fair held from 26 to 28 April 2019 in Sosnowiec!