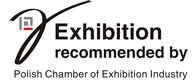 Don't miss the February 22nd applications deadline for DremaSilesia Exhibition 2019
Promotional prices for ordering exhibition space at DremaSilesia 2019 only till 22nd of February 2019 – please hurry up!
We kindly remind,that REGISTRATION TO THE TRADE SHOW CAN BE DONE VIA THE EXHIBITOR ZONE ONLY >> here
Register your company to become an exhibitor at DREMASILESIA and DREMA - you will receive a 5% off on the cost of exhibition space at both events!
Attention! 5% discount is valid also by applications for FURNICA (www.furnica.pl/en)  and SOFAB (www.sofab.pl/en)  2019!
PROMOTIONAL PRICES APPLY UNTIL:
DremaSilesia - 22.02.2019
DREMA - 7.06.2019