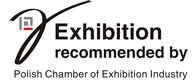 18.02.2019
Promotional prices for ordering exhibition space at DremaSilesia 2019 only till 22nd of February 2019 – please hurry up!
31.01.2019
While the growing popularity of DREMASILESIA attracts new exhibitors every year, the comprehensive range of products and services attracts visitors from all over Poland as well as professionals from abroad. This is an excellent opportunity to learn about technical and technological trends in furniture production and woodworking.
17.01.2019
The DremaSilesia Exhibition of Woodworking Machines and Tools will take place from 26 to 28 April 2019 at Expo Silesia in Sosnowiec and will provide representatives of the woodworking sector with an opportunity to present the latest technologies and products used in the woodworking and furniture industry.
18.12.2018
International Trade Fair of Machines and Tools for Wood and Furniture Industries DREMA has been an opportunity to present all the most modern achievements of Polish and foreign manufacturers of machinery, tools and equipment for the woodworking and furniture industries. Together with DremaSilesia Exhibition, they become ideal spaces to present modern technologies and solutions dedicated to the woodworking industry.
05.12.2018
With the upcoming 2019 edition, FURNICA will become a part of DremaSilesia and DREMA, which is currently the fifth exhibition dedicated to the woodworking industry in the world. This combination will allow for a comprehensive presentation of technological solutions for the furniture industry (from raw materials, materials and components to technologically advanced machinery and equipment for furniture production).
07.11.2018
We have just opened registrations for the wood and furniture industry fair. If you want to participate and register your company for both DREMASILESIA and DREMA, you will receive a 5% off on the cost of exhibition space at both events!
30.10.2018
The DREMA International Trade Fair of Machines and Tools for the Wood and Furniture Industry is one of the world's leading exhibitions dedicated to the woodworking industry. According to the 2018 VDMA-Auma figures presented at this year's meeting of the Eumabois Federation in Istanbul, DREMA took the fifth place in the ranking of the best world exhibitions, alongside German LIGNA, Italian XYLEXPO, American IWF Atlanta or Chinese WMF Shanghai, thus becoming a serious player in the global exhibition elite.
15.05.2017
In Expo Silesia, Sosnowiec City, Poland, ended an 11th edition of DREMASILESIA Exhibition. Three days passed in a calm atmosphere, allowing for explore the exhibition, open discussions and concretization contracts.