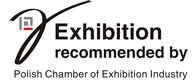 15.05.2017
In Expo Silesia, Sosnowiec City, Poland, ended an 11th edition of DREMASILESIA Exhibition. Three days passed in a calm atmosphere, allowing for explore the exhibition, open discussions and concretization contracts.
30.10.2015
Poznan is the host for the eleventh STIHL TIMBERSPORTS® World Championship. The world's top lumberjack athletes will meet at the Congress Center in this western Polish city on 13 and 14 November 2015. Over 100 athletes from more than 20 nations will line up to determine the 2015 World Champion in the team and individual competition.
07.10.2015
The Business Evening of the Drema, Furnica and Sofab 2015 fair was held in the historic Fair Spire. See our pictures gallery...
06.10.2015
Międzynarodowe Targi Poznańskie provide their guests with a wireless Internet connection free of charge. WiFi will be available in all Fair buildings, as well as in the open space in the Mark's Square.
05.10.2015
Drema, Furnica and Sofab 2015 will traditionally feature two factories used for the production of furniture during the four exhibition days.
10.09.2015
Jury of the Gold Medal Competition for Drema fair chaired has selected 12 innovative products.
21.08.2015
We kindly remind you that you can submit your products to MTP Gold Medal Competition for Drema Fair only until 28th of August. The purpose of the competition is to select the most up-to-date, innovative products, based on the highest level technology
12.08.2015
See the list of exhibitors of Drema Fair 2015.