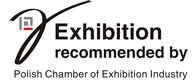 When, where, tickets
Opening hours for visitors
Friday (26.04): 10:00 - 17:00
Saturday (27.04): 10:00 - 17:00
Sunday (28.04): 10:00 - 15:00
Opening hours of the ticket offices
Friday (26.04): 9.45 – 16.30
Saturday (27.04): 9.45 – 16.30
Sunday (28.04): 9.45 – 14.40
Information about tickets
PROFESSIONALS DO NOT PAY! Get free ticket for DremaSilesia Fair 2019
Visit  www.mtp24.pl, fill in the registration survey  and buy ticket.
Registration involves filling out a registration survey (at the cash desk during the fair on the basis of business card or company stamp). Ticket for professionals only entitles to free re-entry into the fair.

To register are allowed those persons professionally connected with the wood industry (eg. wood processing, furniture, forestry, sawmilling) based on business card or stamp business. People outside the industry are invited to purchase tickets without registration.


ATTENTION! PLEASE RETAIN YOUR TICKET UNTIL YOU LEAVE THE FAIRGROUNDS!
Location
Expo Silesia

ul. Braci Mieroszewskich 124
41-219 Sosnowiec
GPS:
50o 18' 53.721" N
19o 11' 49.313" E
Visitors section contact information
Barbara Kamińska

mob. +48 691 031 381
e-mail: barbara.kaminska@grupamtp.pl