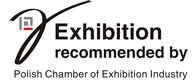 15.05.2017
In Expo Silesia, Sosnowiec City, Poland, ended an 11th edition of DREMASILESIA Exhibition. Three days passed in a calm atmosphere, allowing for explore the exhibition, open discussions and concretization contracts.
30.10.2015
Poznan is the host for the eleventh STIHL TIMBERSPORTS® World Championship. The world's top lumberjack athletes will meet at the Congress Center in this western Polish city on 13 and 14 November 2015. Over 100 athletes from more than 20 nations will line up to determine the 2015 World Champion in the team and individual competition.
07.10.2015
The Business Evening of the Drema, Furnica and Sofab 2015 fair was held in the historic Fair Spire. See our pictures gallery...
More news
---

Next edition of EXHIBITION OF WOODWORKING MACHINES AND TOOLS DREMASILESIA - April 2018, Expo Silesia, Sosnowiec, Poland
Join the biggest local meeting for the proffesionals and see a comprehensive offer for small and medium-sized enterprises in the wood and furniture industry.