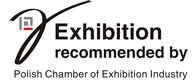 18.02.2019
Promotional prices for ordering exhibition space at DremaSilesia 2019 only till 22nd of February 2019 – please hurry up!
31.01.2019
While the growing popularity of DREMASILESIA attracts new exhibitors every year, the comprehensive range of products and services attracts visitors from all over Poland as well as professionals from abroad. This is an excellent opportunity to learn about technical and technological trends in furniture production and woodworking.
17.01.2019
The DremaSilesia Exhibition of Woodworking Machines and Tools will take place from 26 to 28 April 2019 at Expo Silesia in Sosnowiec and will provide representatives of the woodworking sector with an opportunity to present the latest technologies and products used in the woodworking and furniture industry.
More news
---

Next edition of EXHIBITION OF WOODWORKING MACHINES AND TOOLS DREMASILESIA - 26-28 April 2019, Expo Silesia, Sosnowiec, Poland
Join the biggest local meeting for the proffesionals and see a comprehensive offer for small and medium-sized enterprises in the wood and furniture industry.